From Budoshop.se by BUDOSHOP.SE
SWORD FIGHTING fundamental postures with MATS HJELM. These "Kamae" is not simply a static posture you can learn from looking at a picture. Each Kamae is studied by practicing the whole movement. All Kamae have a complete technique from start to finish connected to it. The whole technique becomes the Kamae and help us understand the posture better. Hatsumi Sōke taught us these Kamae very often without telling us what it was. He often started the Sunday morning class by taking a sword and teach one of these Kamae without explaining the origins of the technique. I as most others (I think) thought he just did something random without deeper thought behind it. I soon found out that I was wrong, it was these Kamae he was showing us. It was Ninja Happo-biken from Togakure-ryu. This video covers Kamae no Kata, the postures and movements of traditional sword fighting techniques of Togakure-ryu.
Happō-biken, eight directional secret sword means: generating an infinite secret sword from the posture of divine mind – divine eyes (心身心眼 SHIN SHIN SHIN GAN). Masaaki Hatsumi
Download SWORD FIGHTING fundamental postures with MATS HJELM
On this video Mats show all 8 Sword postures and techniques from the
Togakure-ryū
in the Bujinkan system. These are the eight postures.
忍者八方秘剣構 NINJA HAPPO BIKEN KAMAE
NINJA SWORD FIGHTING And the essential postures and movements with MATS HJELM. Each technique is demonstrated and explained from different camera angles. The instructions are in English.
一之構 ICHI NO KAMAE
正眼之構 SEIGAN NO KAMAE
中段之構 CHŪDAN NO KAMAE
下段之構 GEDAN NO KAMAE
棟水之構 TŌSUI NO KAMAE
八相之構 HASSŌ NO KAMAE
霞之構 KASUMI NO KAMAE
刀匿礮姿 TŌTOKU HYŌSHI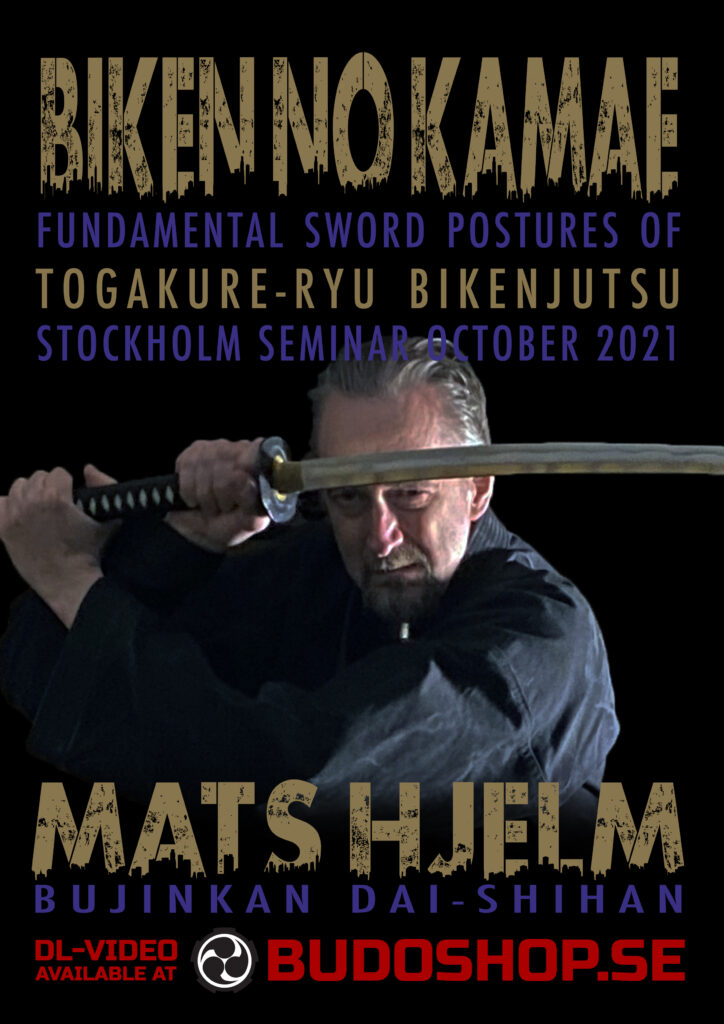 Click on the button above to buy the 40 minute video download HD1280x720, MP4, QuickTime Text, AAC, H.264. Download size 830Mb
This video is from a Seminar in 2021. Recorded in Sundbyberg, Stockholm in October 30'th 2021. The seminar was organised by
Bujinkan Kaigozan Dojo
.
About the instructor
Mats Hjelm started training in Bujinkan for the first time around 1983. It wasn't until 1986 when he had the opportunity to start training more seriously under a Shidōshi. He has taught at numerous seminars all around the world, gone to Japan 3-5 times every year. After he started training he never had a training break. He takes his budo training very seriously! If you want to sponsor a seminar or course, please don't hesitate to contact him. For more information see his web site kesshi.com or come and train with him at Kaigozan Dojo.…
Read More