From Budoshop by BUDOSHOP.SE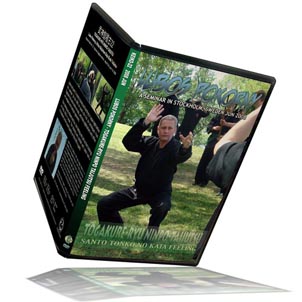 125 minutes, 1.26 Gb for $19.99
(h.264 M4V/MP4 400p format)


Available as download or full DVD!
Lubos had spent 3 months training and teaching in Japan right before he came for this seminar. On this video he covers the first six techniques from Togakure-ryu Santo Tonko no Kata, and many different applications with different weapons and multiple opponents.
The training was relaxed and fun, the feeling was just as the trainings in Honbu dojo in Japan. It was a beautiful weekend and the training was outside. Lubos had a microphone on so you can hear him very good..
Recorded in Stockholm May 2008
The instructions is in English.

About the instructor
Lubos Pokorny (Shihan 15th Dan Happo Biken) is a student of Dr. Masaaki Hatsumi, the 34th Grandmaster of Togakure Ryu Ninjutsu. As such, he has traveled around the world to take part in Hatsumi Sensei's training events. During these travels Lubos represents the Czech Republic, beginning his training in 1991, he is the first Czech student of the Bujinkan as well as the founder of the Bujinkan Czech Dojo.
During his stays in Japan, usually 4-5 months per year he also teaches at the Hombu Dojo.
See his web site… bujinkandojo.eu/lubos.php
About the download
Click here for more information about our download files and how it works!…
Read More