From Budoshop by BUDOSHOP.SE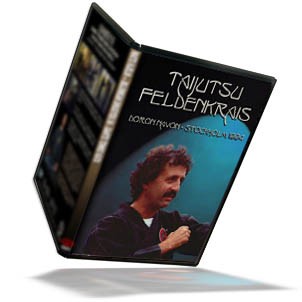 Doron Navon from Israel started training with Hatsumi Sensei in 1968 long before the "ninja-boom". While in Japan he was also introduced to the Feldenkrais method by the Israeli physicist Moshe Feldenkrais who was an accomplished Martial Artist that came to Japan for a shorter visit. When Doron came back home to Israel in 1974 he deepened his knowledge in the Feldenkrais method directly under Dr Moshe Feldenkrais.
Doron says that the Feldenkrais method is a shortcut to the godan test. This has been confirmed by both Hatsumi Sensei and many other who have studied Taijutsu and Feldenkrais.
This video was recorded in 1994 in Stockholm. It was originally released on VHS and then later as a VCD / Video CD in 2003 by BUDOSHOP.SE hence the quality is VCD PAL (352×288), playing time is 52 minutes. It has been remastered and converted so that it plays nice on iPod, iPad, iPhone, PC, Mac, or any other device that can play standard h.264 videos. It is not DVD quality!
Sample clip
http://www.youtube.com/watch?v=GL5ecJvJddA
About the download
Click here for more information about our download files and how it works!…
Read More