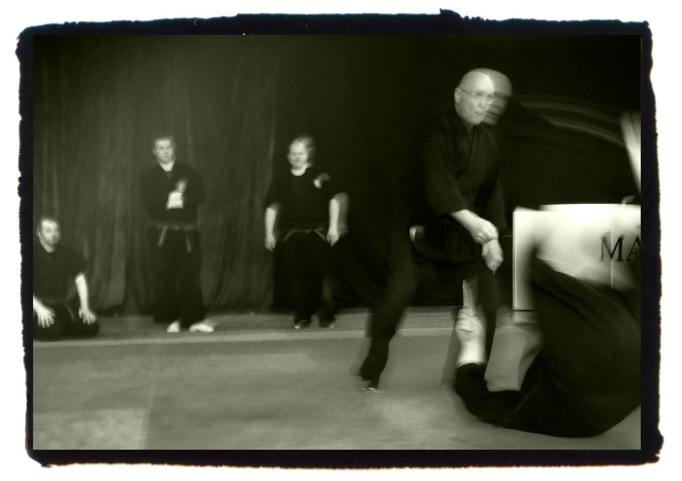 Årets träningsläger sponsrat av Svenska Bujinkanförbundet hölls i Gävle den första helgen i mars 2011. Arrangemanget sköttes av Patrik Johansson och medlemmar från Bujinkan Gefle Dojo. Inbjuden instruktör var Sveneric Bogsäter som varit bosatt i Holland de senaste 20 åren.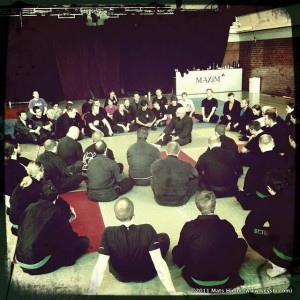 Det kom ungefär 75 träningssugna deltagare från hela Sverige för att träna och umgås. Årets Bujinkan-tema är Kihon-happō. Sveneric öppnade med att säga att temat för lägret är Kihon-happō med shūtohanpa principer. Vilket betyder att man gör tekniker halvfärdigt. På så sätt övar man på att överge sitt ego som vill hålla fast i det som man redan kan, och istället gör något fullständigt oväntat. Det är ett abstrakt tänkande och aningen svårbegripligt, vilket också är meningen.
Kihon-happō består av åtta grundtekniker som vid en djupare analys blir åtta grundprinciper. Man kan ytterligare dela upp dom i två, ura och omote; förenklat, att fälla uke bakåt eller framåt.
Sveneric började med att låta någon frivillig att visa grundutförandet av omote-gyaku den första tekniken i toride-kihon-gohō i Kihon-happō. Sedan utgick Sveneric från denna teknik och visade detaljer och principer obeväpnat och med olika vapen.
Efter att ha sett oss (några?) ha alldeles för bråttom men ändå missa detaljer citerade Sveneric Wyatt Earp, "Fast is fine but accuracy is final. You must learn to be slow in a hurry." Att vara snabb är okej, men ni måste lära er att skynda långsamt (fritt översatt). Med rätt tajmning och positionering behöver man inte vara särskilt snabb bara man gör rätt.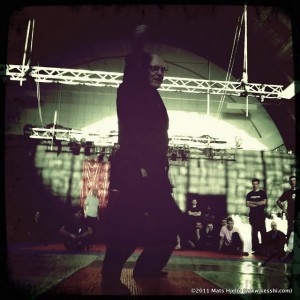 En sak till vi fick kritik för med all rätt (jag håller fullständigt med) var att våra attacker, slag var ganska pinsamma. Jag har själv upplevt många gånger att man känner sig ganska säker på att inte bli träffad när man tränar här hemma, och man blir lite för avslappnad. När man som instruktör ber en Holländare, Tysk eller Kroat till exempel leverera en attack så är det en helt annan känsla. Flyttar man inte på sig så kommer slaget att träffa hårt. Träningen blir på en helt annan nivå. Så när Sveneric på ett vänligt sätt förklarade detta för oss hoppas jag att vi tar åt oss detta och tar attackerna på lite mer allvar.
Personligen tycker jag att man kanske bör attackera nybörjare lite mer försiktigt, men är det ett svartbälte man attackerar så bör slaget så länge det är rakt vara fullt ut för att båda två ska kunna träna mer realistiskt.
Ett stort tack till Patrik och grabbarna i Bujinkan Gefle Dojo, jag tänker på mannen (och hans flickvän) som bakade och bjöd alla på semlor. Det var en riktigt trevlig överraskning som blir svår att toppa för den som organiserar nästa års Bujinkan Sverige-träningsläger.
Grattis också till Jim och Hasse, det var verkligen på tiden!
För mer bilder från lägret se min hemsida.
/Mats – Kaigōzan Dōjō…
Read More