From Budoshop by BUDOSHOP.SE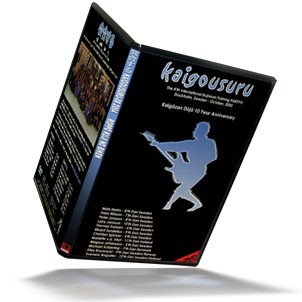 90 minutes, 600 Mb for
$14.99
Buy the full DVD, click here!
Kaigousuru 4 -- the fourth International Bujinkan Training Party with some of the best instructors in Sweden and Scandinavia.
- Sveneric Bogsäter
- Mariette v.d Vliet
- Larry Jonsson
- Elias Krzywacki
- Rikard Sundelius
- Peter Jonsson
- Mats Hjelm
- Michael Schjerling
- Hans Nilsson
- Thomas Franzen
- Christian Spicker
- Magnus Johansson.
The theme of this year was Koto-ryu. This was the 10 year anniversary of Kaigozan dojo. A lot of instructors where invited, and a lot of people came to play and celebrate. This is a very good tape for people that haven't seen so many instructors move. All the instructors move and teach different, you will get a lot of variety, and a lot of good ideas to play with.
Recorded in Stockholm, Sweden October 2000
Sample clip from the video
www.youtube.com/watch?v=uBK_ICKJIPw
About the download
Click here for more information about our download files and how it works!…
Read More